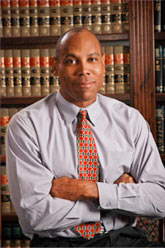 Being arrested is never something to take lightly, whether you are facing charges for a DUI or for a serious felony. Your employment opportunities, your reputation, your family and your freedom can all be affected with a criminal conviction. Fight a criminal charge by hiring an experienced lawyer.
At the Frazier Law Firm, in South Jordan, Utah, attorney Danny Frazier has practiced criminal defense for more than 22 years and has obtained successful resolutions for clients facing a wide variety of criminal charges. A former Division-I athlete and an attorney with a strong track record of success, Mr. Frazier works tirelessly to protect his clients' rights and develop effective defense strategies inside and outside of the courtroom.
The Frazier Law Firm is available to handle all Utah state and federal criminal matters, including:
Drug crimes
DUI and DWI offenses
Sex crimes
White collar crimes
Theft and property crimes
Domestic violence
Assault and violent crimes
We approach all of these matters with the intent to thoroughly examine the events and circumstances of the case, including the gathering of evidence by police officers and other law enforcement agencies. Our firm frequently works with a group of investigators and other experts to learn more about our clients' cases and build strong defenses for our clients.